It is that time of year….back to school! I don't know about you, but I'm ready. After a crazy summer, I'm ready to get back into the routine that the school year brings. But the transition from carefree summer days and late summer nights to school days and early bedtimes can be hard! These are my top 3 tips for this tough transition. Here we go!
1. Create and stick to a morning and evening schedule
Kids THRIVE on routine. Knowing what will happen helps them feel safe and confident. It also helps to eliminate power struggles and challenging behaviors (such as not listening, whining and meltdowns). Before school starts create morning and evening schedules. Add pictures to the schedules to make them even more powerful. Introduce the schedules to your kids in a positive way and practice using them a few days before school starts. I have worked with so many families (mine included) that have benefited from using visual schedules. Give it a try and see what happens!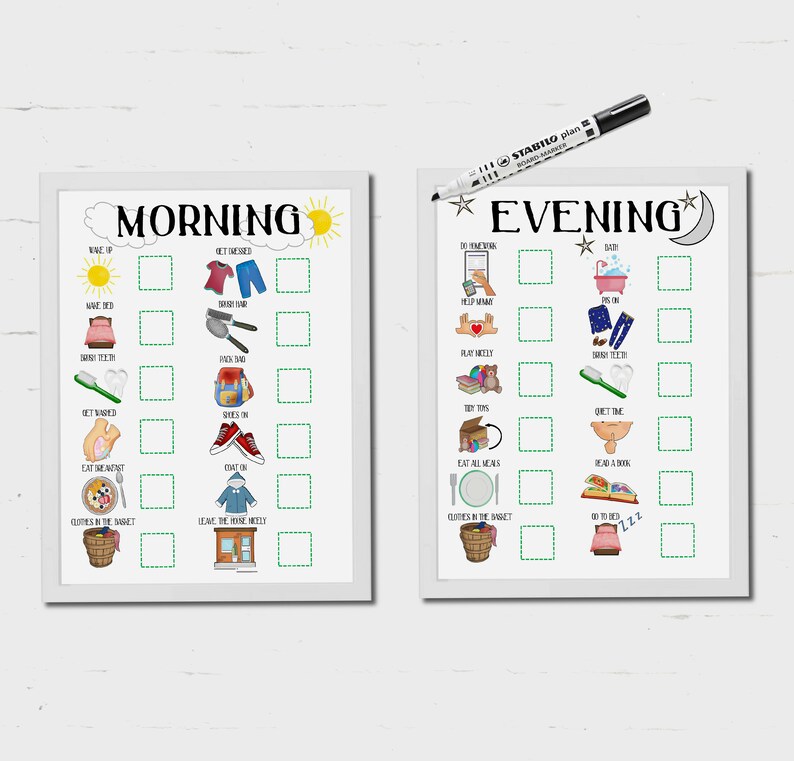 These schedules are from OliHarri Printables at Etsy.com
2. Get enough sleep
Sleep is soooo important for kids (and adults too!). Getting the proper amount of sleep improves health, attention span, academic performance, social emotional regulation and positive behaviors.  People are usually shocked when I share my son has a 7:30 bedtime (that's the goal at least). But he needs his sleep and you can tell when he hasn't had it (and it ain't pretty!). Kids typically need more sleep than they are getting. Check out the sleep chart below to see how much sleep your child should be getting. When we had my son's 6 year old well visit a couple of weeks ago his doctor strongly recommended that he get 12 hours of sleep every night.
 From www.hdft.nhs.uk
3. Eliminate or limit the number of after school activities
Now you may be thinking how in the world can my kid get that much sleep?? By eliminating or at least limiting the number of after school activities your child is involved in. I know it's tempting to think that our kids needs to be in soccer,  piano lessons, lego club and after school tutoring. But do they really? Keeping too busy and staying out late delays evening schedules and usually ends in less sleep (which leads to challenge behaviors). In addition to extracurricular activities limit the number of other activities you do in the evenings as well (including errands, shopping, or even going out to dinner). I've had to say no to a lot of things duing the week. It's not easy but it's worth it knowing we can stick to our schedule and my son is getting the amount sleep he needs. This provides kids downtime after a long day at school, time to connect as a family and again it also helps lessen challenging behaviors. And who doesn't want that??
These 3 tips have helped my son and I as well as many families I work with. If you'd like to learn more about the strategies above I do offer parent coaching. Email me at sunshineforsinglemoms@gmail.com for more info.  Comment below YOUR favorite back to school tip!
Until next time, let's live bright!